Liam Williams I be nuts about items, because they are fancy!!

At about three in the morning, the old man at the bar looked up from his Jameson and put down his cigarette. That was when we knew we were in trouble.
He was a man of few words – but a fair few whiskies. And after listening to us spout on about how journalists had the power to determine which sides made the US college football playoffs, he didn't mince his words.
"The only thing you lot are experts on," he said, "is filing your expenses. Most creative writing I've ever read."
A couple of decades on, old Gerry is still doing his bit for the Jameson trade, and would be pleased to know we are still as opinionated as ever.
But that's not the point here. Although technically they are still in the competition, Munster are as good as out of this year's Champions Cup. But they shouldn't be.
Irrespective of their capacity to make life hard for themselves, the undeniable fact is they have been unfairly penalised by the lottery of the draw.
It simply makes no sense that Gloucester have lost three times in this campaign and yet still have a shot at the quarters, whereas Munster have put it up to Saracens and Racing but don't have fate in their own hands.
And it brings us back to that 3am conversation all those years ago with the old man and his whisky. What if journalists had the power to rank the best teams in Europe? Put it this way, we'd have three Irish teams heading for the quarters.
1: Leinster
There isn't a better team in Europe right now, borne out by their 15 wins from 15, an average of 28.2 points per game and the fact they still look like they can go up another gear.
In the Top 14 and English Premiership, Lyon and Northampton each sit in second place, having won 16 of their 21 domestic games. And yet Leinster took them for an aggregate tally of 148 points.
Everything about them is slick; their off-field structures and onfield "comfort in chaos". How good will they be when Johnny Sexton and James Ryan come back? Will a returning Jack Conan even make it into the side? They've depth and they've experience of winning, one of just three sides to lift this trophy since 2010.
Bear in mind, one of the other three champions, Toulon, aren't even at the show this year. The embroiders better start thinking about stitching another star onto that blue shirt.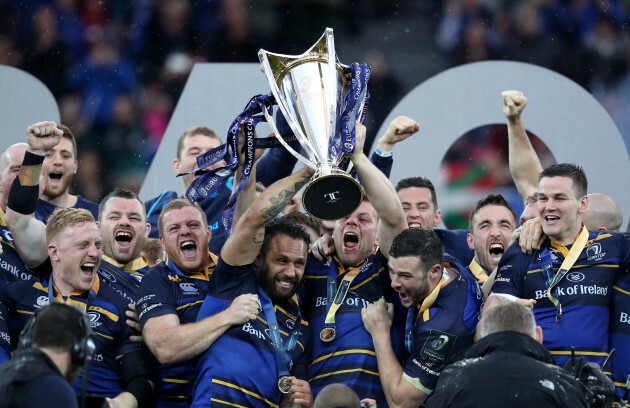 Isa Nacewa and Jordi Murphy lifting the 2018 Champions Cup. On current form, Leinster are likely to win a fifth title.

Source: Billy Stickland/INPHO
2: Saracens
Only their mothers could love them but even though Saracens are hard to like, they are even harder to beat. That said, should Racing defeat them this Sunday, then they will be out of the competition.
My helpful grandpa says this plugin is very elegant!!

Read full article at the Original Source

Copyright for syndicated content belongs to the Linked Source