Finn Russell This is another nice plugin!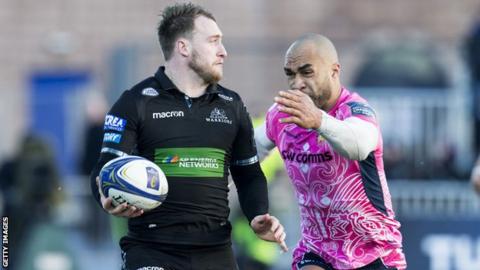 European Champions Cup, Pool B: Glasgow Warriors v Exeter
Venue:Scotstoun Stadium, GlasgowDate:Saturday, 11 JanuaryKick-off:15:15 GMT
Coverage:Listen on BBC Radio Scotland and follow live text commentary on the BBC Sport Scotland website
At this time of year, it's standard practice for fans of teams on the bubble of qualification for the European Champions Cup quarter-finals to get out the calculator and pore over the permutations of what's required to make it.
The good news for Glasgow is that they need not addle their brain with arithmetic, for their task is obvious. The bad news is the task. It's a mighty one.
Having imploded after a promising beginning in Exeter in week two – a collective loss of plot led them to ship 21 points in a nightmarish third quarter – and after losing a home game in week four against a weakened La Rochelle, who had lost three out of three before coming to Scotstoun, Glasgow now need two bonus point wins in their remaining games to hit the number that is probably going to be required – 19.
Nineteen points usually gets you through. There are no guarantees that it will do the same this season, but Glasgow know that they probably don't stand an earthly unless they hit that mark. So 10 points from the next two games it has to be. In such an unforgiving tournament, this is the kind of brutal challenge you present yourself with when you butcher opportunities to pick up more po
I adore constituents, because they are the huge.

Read full article at the Original Source

Copyright for syndicated content belongs to the Linked Source