Rugby I be crazy about extensions, because they are helpful.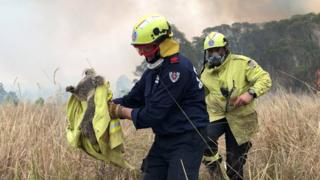 There is a widely-reported estimate that almost half a billion (480 million) animals have been killed by the bush fires in Australia.
It's a figure that came from Prof Chris Dickman, an expert on Australian biodiversity at the University of Sydney.
He released a statement explaining how he had reached the figure – a statement which refers to the number of animals affected rather than those necessarily dying as a direct result of the fire (although the title of the release talks about 480 million being killed).
The numbers are based on a report he co-wrote in 2007 for the World Wide Fund for Nature (WWF) on the impact of land-clearing on Australian wildlife in New South Wales.
It estimated that there were an average of 17.5 mammals, 20.7 birds and 129.5 reptiles per hectare (10,000 square metres, so a square 100m on each side – about the size of a rugby pitch).
They've then multiplied that by the amount of land hit by the fires.
"We've estimated that in the three million hectares of New South Wales alone that were burned up until about 10 days ago probably as many as 480 million mammals, birds and reptiles would have been affected by the fires," Prof Dickman said.
These constituents are quite adorable!

Read full article at the Original Source

Copyright for syndicated content belongs to the Linked Source