Mako Vunipola This is another nice ingredient!!

Two years is a long time in sport.
In November 2017 South Africa rocked up to the Aviva Stadium and fell to a record 38-3 defeat to Ireland.
And it was just four months after that game that Joe Schmidt's side put England to the sword in Twickenham to seal the 2018 Grand Slam.
Not too long ago some Irish players talked about the possibility of being in the World Cup mix at this point but that notion proved wide of the mark, to say the least.
Now two teams that Ireland side beat impressively in 2017/18 find themselves in a play-off for the Webb Ellis trophy.
The only Irish tie to this game is to be found in South Africa's backroom team where Felix Jones, formerly a coach at Munster, has been on 'opposition analysis' duty since just before the tournament.
Jones turned down "other coaching opportunities" within the IRFU before heading south.
What we are left with after a roller-coaster six-week period is a decider between two World Cup heavyweights, contesting their third (SA) and fourth finals (England).
The latter stages of this tournament is no place for pretenders.
Eddie Jones has sharpened the considerable tools at his disposable like a master craftsman, getting the team right at the right time. Preparation: 10/10.
That's one of the reasons that it's hard to escape the sense that this game is a coronation.
That's not to say that it will be easy won, it's more that there is an inevitability about the outcome, so much further are England along their journey and so good have the Red Rose been to this point.
Fears that England peaked too soon (namely against Ireland on 24 August) have proved unfounded.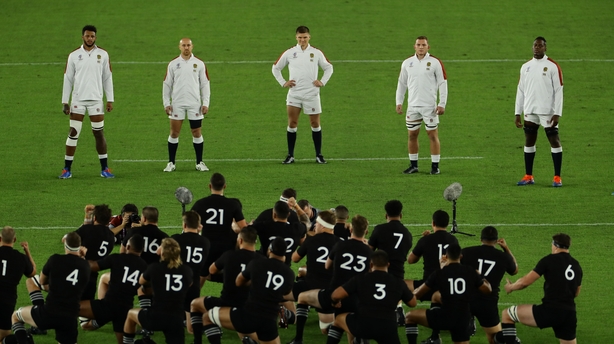 Should Jones' men, six-point favourites, win tomorrow then they will have beaten all four Rugby Championship teams along the way, and the Tri-Nations teams in a 14-day period, a feat without equal.
Pool stage wins over Tonga, USA and Argentina came as no surprise and they got the bonus of an extra rest week when their tie with France was cancelled due to Typhoon Hagibis.
Australia were brushed aside, 46-16, in the quarter-final before what many people claim is one of the best ever World Cup performances.
New Zealand, the 2011 and 2015 winners, couldn't match England's speed, desire, power and execution. Jones' side had two tries disallowed in a 19-7 win.
It was as comprehensive a victory as we have seen, the margin flattering only the All Blacks.
Similar to the Six Nations game against Ireland, England started off with a power-play and were over the line in the opening minutes. In fact, England have scored tries in the opening ten minutes in nine of 14 matches this year.
ENGLAND v SOUTH AFRICA:
These constituents are quite awesome.

Read full article at the Original Source

Copyright for syndicated content belongs to the Linked Source