Rugby This is one interesting component!

IRELAND KNEW THEY needed a strong start.
Joe Schmidt understood that his team simply had to be the front-runners, picking up early scores and planting seeds of doubt in Kiwi minds.
Instead, for the second World Cup in a row, Ireland delivered a truly disastrous opening quarter to ensure their quarter-final was essentially over with just 21 minutes played.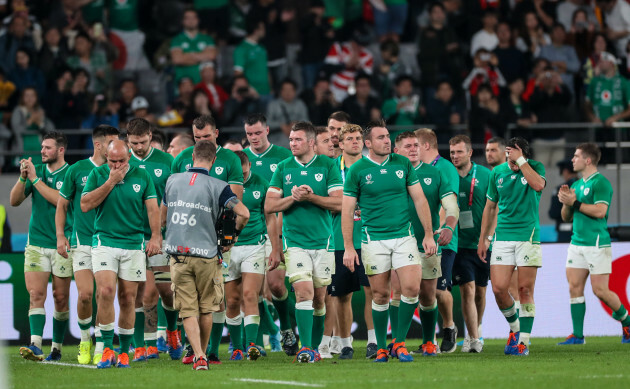 Ireland were dire in the opening quarter.

Source: Billy Stickland/INPHO
The All Blacks were superb in taking advantage, but this opening effort from Ireland was about as un-Schmidt like a performance as they have delivered in his time in charge.
Uncomposed, inaccurate, sloppy, muddy in their thinking, and indecisive in their execution, Ireland invited the All Blacks to thrive with their incredible rate of errors on a huge occasion that called for a cool, calm and clinical performance.
Trailing 17-0 after the first quarter, Ireland had essentially lost the game before it really got going. Here, we examine the litany of failings from Schmidt's side on yet another dark day for Irish rugby at the Rugby World Cup.
Poor execution
After the All Blacks knock the ball on under their short kick-off, Ireland get an early scrum platform and throw a clever idea at the All Blacks only to execute poorly.
We saw Ireland go down the shortside twice off similar scrums against Scotland for Jacob Stockdale to chip ahead, and Ireland are hoping the Kiwis fall for the same picture here as they instead switch back to the openside.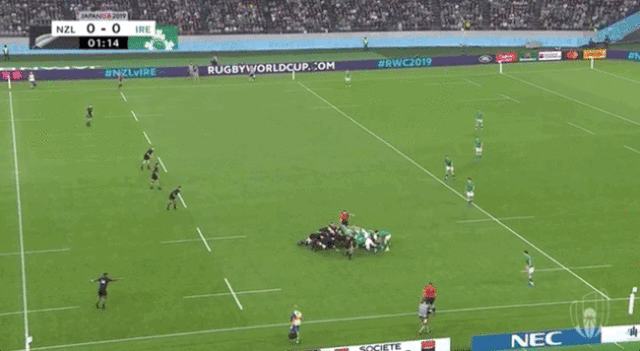 [Click here if you cannot view the clip above]
Ireland's scrum platform is excellent and we can see above that the Kiwis initially buy into for the Irish deception, as Stockdale switches underneath and screens a pass behind Robbie Henshaw to Johnny Sexton.
Ireland have preserved a fair bit of space for Keith Earls [red below] on the right wing for Sexton's planned cross-field kick, with Kiwi left wing George Bridge [yellow] naturally defending tighter to his midfield, and fullback Beauden Barrett out of shot in a deep position.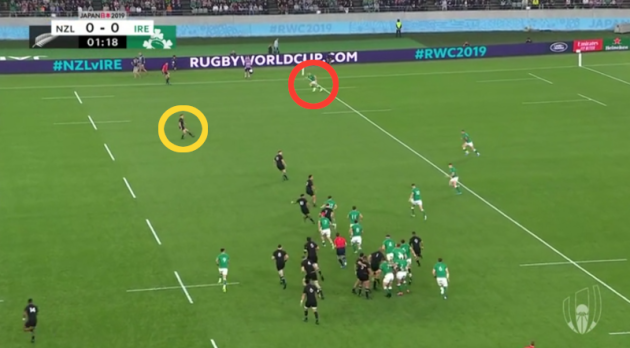 But Sexton's kick is a poor one. This is a very difficult kick to execute on the move and early in a game with his first touch, but Sexton would have been disappointed not to give Earls a chance to catch the ball on the full.
We should note that the All Blacks' attacking kicking in this game was extremely accurate, and Sexton's effort here is too far upfield and allows Bridge to recover to gather.
Choked up
The Kiwis roll a grubber into touch down the left and then defend Ireland's mauling effort very well, forcing them to carry off slow ball.
It should be noted that Ireland's very first carry of the game through Cian Healy saw him turn the ball over, but referee Nigel Owens had been playing advantage for the knock-on from the Kiwis' kick-off.
Ireland's second carry of the game is equally as poor.
[Click here if you cannot view the clip above]
It's superb defending from Sam Whitelock and Kieran Read here to wrap up the ball, but Stander will be disappointed with his technique in the carry.
As we can see below, Stander is very upright into the contact and he actually leads with the ball into the Kiwi tackle.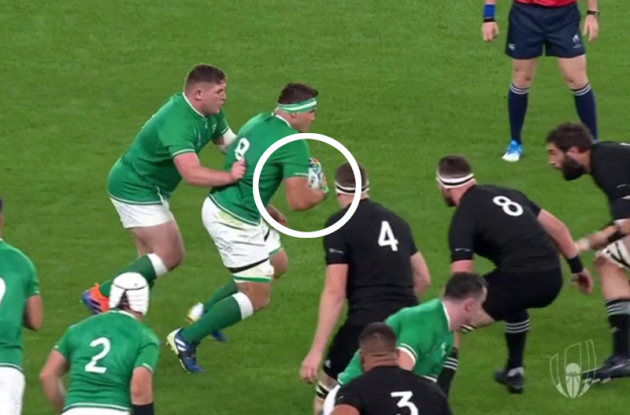 That obviously makes it easier for Whitelock and Read to wrap the ball up as they choke-tackle Stander.
While Ireland might argue that this was actually just a long tackle rather than a maul, the real issue is with a poor carry. Stander being choked means Ireland turn the ball over cheaply for the second time inside the opening three minutes.
Conceding three
The All Blacks appear to take Ireland very much by surprise with their tactic off this first scrum platform as Mo'unga launches a garryowen into their 22.
With Kearney having been worried about a wide passing attack, he can't get back underneath the ball, while right wing Earls also fails to get under it and the ball bounces off Garry Ringrose's head and back into Kiwi hands.
They launch a probing attack featuring their first excellent tip-on pass of the day from Whitelock to Ardie Savea but Ireland manage well defensively until Stockdale gives up a penalty.
[Click here if you cannot view the clip above]
Stockdale would have been disappointed with giving up a cheap penalty in this instance. Ireland have enough defenders on his side of the ruck for the Ireland wing to go hard and make a dominant ball-and-all hit on Sevu Reece as Mo'unga releases his pass.
Instead, Stockdale decides to go after the intercept but without 100% conviction, leaving him somewhere in between and only able to stretch out one hand to knock the ball on.
It's a straightforward penalty for Owens, who warns Stockdale that he's lucky it wasn't yellow. Mo'unaga steps up to fire over a superb penalty kick for a 3-0 lead that Ireland have very much fed to the All Blacks.
Missed chance
Stockdale does his best to make amends with a superb take of Sexton's excellent short restart and Ireland spring into a promising attack that features a Best offload to Murray for a big gain up towards the Kiwi 22.
Indeed, Ireland really stretch the New Zealand defence and manage to manufacture an opportunity wide on the right only for more poor execution to almost cost them a try at the other end of the pitch.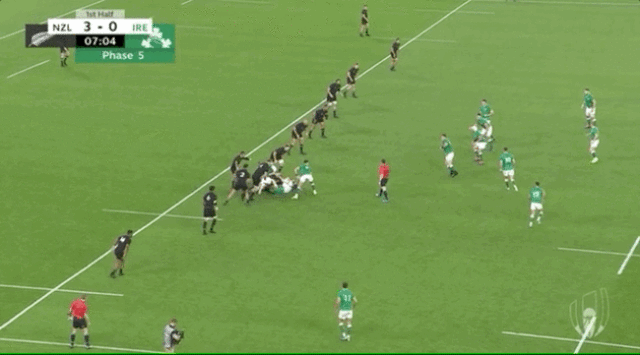 [Click here if you cannot view the clip above]
There is lovely shape from Ireland here as Best makes a link pass to Sexton from the middle of a three-man pod and then Sexton screens the next two forwards to Ear
Meet this interesting extension!!

Read full article at the Original Source

Copyright for syndicated content belongs to the Linked Source