Rugby I be mad for plugins, because they are clever!!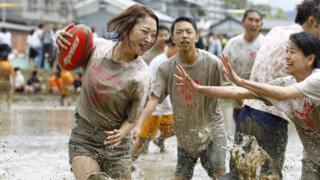 It's charming everyone from shrieking schoolkids to professional rugby players, but Japan's newest all-weather sport is anything but good clean fun.
This is tambo rugby – where teams splash and squelch their way over a flooded rice field (or tambo, in Japanese), and swimming goggles are the new skullcaps.
It's a non-contact game, meaning there are no tackles, and players of all ages and genders face each other on this waterlogged mud wallow.
A try will get you two points, and the joy of flinging yourself into an enormous puddle.
Rugby fever has peaked in Japan this year thanks to the World Cup, which concludes on 2 November, but tambo has been steadily gathering fans since its birth in 2015.
The game first sprang up from hardship in Fukuchiyama, Kyoto prefecture, where a typhoon had flooded several local farms.
Gradually, it spread 50 miles east to the coastal town of Obama, and to Ryugasaki, north-east of Tokyo, where farming women saw it on social media and thought the full-body mud bath looked like fun.
According to Japan's Kyodo News, some 15 events had been held nationwide this year by the start of July. Not bad going, since the window for tournaments is generally just May to August, between rice harvesting seasons.
This is the awesome module ever%sentence_ending

Read full article at the Original Source

Copyright for syndicated content belongs to the Linked Source