Owen Farrell My dad says this plugin is fancy!!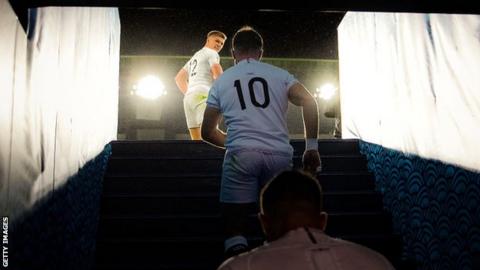 Rugby World Cup final: England v South Africa
Venue:Yokohama International StadiumDate:Saturday, 2 NovemberKick-off:09:00 GMT
Coverage:Live radio commentary on BBC Radio 5 Live and live text commentary on the BBC Sport website and app.
Elite rugby can break bodies and its pressures can make the physically indomitable falter and fall. World Cup finals change lives and that knowledge can shackle even the best.
Owen Farrell will lead England out against South Africa on Saturday as a player who appears immune to all that and so much more.
You watch Farrell and it all seems so straightforward that you forget how complicated simple can be.
You can follow him round for Japan for seven weeks and still find something unknowable about him, because there appear to be no doubts or darkness behind the unyielding exterior.
Inside the England camp – the World Cup final preview pod
Six key battles to decide the final
Pick your combined 2003 and 2019 England team
The man who started at fly-half for England in their two previous World Cup finals, Jonny Wilkinson, was tortured by his own genius and the expectations put on him, by himself and others, as a result. The dialogue was all internal and you feared for where it might take him when it was all over.
Farrell strips it all back. The team-talks, the interviews, the attitude.
Go harder than the opposition, impose your will upon them. Show no fear. Look around your team and into their eyes, show them what you have and where you want them to be.
"The only voice I heard in the first training session he had with England was Owen's," remembers former team-mate Danny Care.
"And in the meetings. I was taken aback. I'd never heard it from such a young guy, in an England team.
"But one training session and I was in. I was fully under his tutelage. Because he is the best, and he was the best, even when he came in at 19 or 20.
"He knows that every team will come after him, because he's the man. And he relishes it, he loves it, he wants it. He laughs when people hit him hard."
Sporting leaders are supposed to be great orators, sending their team-mates out with long, stirring speeches, or crashing heads against walls. Shakespeare or blood and thunder, or both.
My dad says this plugin is very smart.

Read full article at the Original Source

Copyright for syndicated content belongs to the Linked Source