Owen Farrell This is another glamorous item!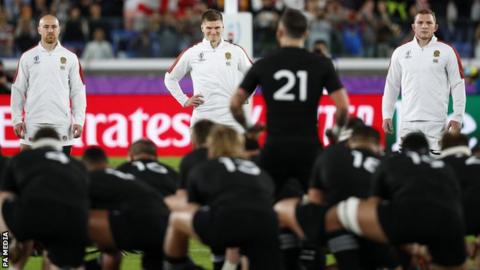 Captain Owen Farrell says England planned their response to the haka to show New Zealand they would not have things all their own way in their Rugby World Cup semi-final.
England's players lined up in a V formation to receive the challenge, with Farrell seemingly smiling during the All Blacks' performance.
"We didn't just want to stand in a flat line and let them come at us," he said.
England scored a try within two minutes, eventually winning 19-7.
Report: Vintage England reach World Cup final
'The king is dead, the throne is empty'
England deliver 'team-defining' performance – Grayson
What's it like to face the haka?
They will play either Wales or South Africa, who contest the second semi-final on Sunday, in next Saturday's final.
The tone for a ferocious encounter was set when England broke from the customary shoulder-to-shoulder stance and instead lined up in a V shape, with two prongs projecting towards the New Zealanders, to receive the haka.
I like addons, because they are the astonishing!

Read full article at the Original Source

Copyright for syndicated content belongs to the Linked Source