Finn Russell These plugins are clever!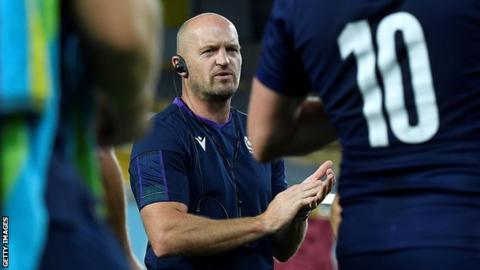 In the wake of Scotland's early elimination from the World Cup, Gregor Townsend spoke at length in the bowels of the Yokohama Stadium. His brain was scrambled, his emotions raw, his passion there for all to see.
With Greig Laidlaw believed to be on the verge of international retirement and a number of others in their 30s and unlikely to get near another World Cup, Townsend called on players to step up and start driving the team as Laidlaw did.
"It's a long reflection for us," said Townsend. "You look to the future. It could be that certain guys have played in their last World Cup, so it's encouraging when you see players like Scott Cummings coming in. It's really encouraging to see Jamie Ritchie, who was outstanding.
"We have some players coming through who should make us stronger. We have a group of players at the age of 25 to 27. from Finn Russell to Jonny Gray, who have at least one more World Cup in them. Jonny has 55 caps, Finn's on 49. They have to drive the team forward.
"Greig [Laidlaw] is not going to be at the next World Cup. Players like him have left a massive legacy. He drives high standards off the field and really cares about what it means to play for Scotland. I'm sure the other ones do, and I've seen it, but it will have to become more their responsibility. The Six Nations is such a big tournament and it's around the corner."
'Townsend needs a big Six Nations'
'No need to change style or coach' – Price
RWC podcast: What next for Townsend & Scotland?
'Townsend will get time and deserves it'
Townsend has made it clear that he has the stomach for the fight ahead despite the criticism that's coming his way. He's cognisant of it but doesn't obsess about it. He knows that what
This is the magnificent extension ever%sentence_ending

Read full article at the Original Source

Copyright for syndicated content belongs to the Linked Source