Rugby This is another helpful constituent.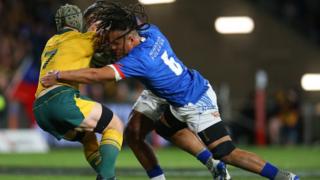 Ahead of the Rugby World Cup in Japan, a report from Christian Aid highlights what they term the "climate injustice" endured by Pacific island participants.
Fiji, Samoa and Tonga face an uncertain future in a warmer world, with rising seas and increased storms.
But rich rugby nations like Japan and Australia are blocking aggressive climate action, the study says.
Christian Aid says this mirrors the exploitation of the Pacific islands for their best rugby players.
The charity says that the Pacific nations are among the countries that have done the least to cause the climate crisis.
Carbon emissions per person in Samoa are just 0.7 tonnes every year but the average Australian produces 24 times more, at 16.5 tonnes.
According to figures produced by the Climate Action Tracker, which monitors the climate plans of different countries, the three Pacific island nations emit less than 1.8 million tonnes from fossil fuel use between them.
For a country like New Zealand the same figure runs to nearly 37 million tonnes.
But the islands are now experiencing some of the worst impacts of a changing climate with rising sea levels threatening land and people.
The region is likely to see more Category Three and Categ
This is the magnificent ingredient ever%sentence_ending

Read full article at the Original Source

Copyright for syndicated content belongs to the Linked Source