Rugby This is one elegant module!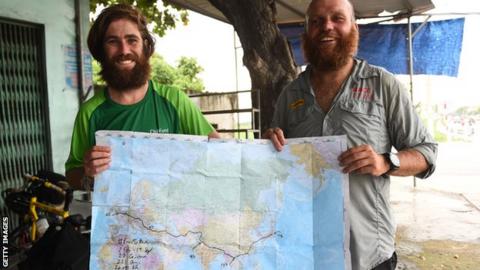 2019 Rugby World Cup
Hosts:JapanDates:20 September to 2 November
Coverage:Full commentary on every game across BBC Radio 5 Live and Radio 5 Live Sports Extra, plus text updates on the BBC Sport website and app.
5,942 miles.
That is the distance between Twickenham Stadium, the home of English rugby, and Tokyo Stadium, where the first Rugby World Cup match in Asia will take place.
With fan packages costing as much as £20,000 and flights around £600, the tournament in Japan is a big financial commitment.
But jobs have been quit, house deposits have been spent and future plans have been scrapped to get there.
Pick your all-time Rugby World Cup XV
Quiz: Test your World Cup knowledge
From Wandsworth to Toyota without flying
Benny and Tanya Hawksbee are no strangers to big sporting events. After getting engaged at Euro 2016 in France, the now-married couple decided to step things up for the Rugby World Cup.
Tanya had just been promoted at work and the Wales fans had saved up for a house deposit, but decided there was a much better way to use the money: a two-month journey to watch their team in Japan.
The 39-year-old – who turns 40 the day before the first semi-final – is afraid of flying so, inspired by the television show Race Across the World, the pair agreed to use other methods of transport.
They set off from Wandsworth, south London, on 2 July and have since been making their way across Europe and Asia by train, bus and boat, going through through 18 countries en route to Toyota for Wales' first match against Georgia on Monday.
"We kind of figured we were about to get ourselves into a massive mortgage and that would be it. We wouldn't be able to venture any other way," explains Tanya.
"So we had a moment. I was in the car driving home from work one day and I called Benny and said, 'I can't do this anymore. We need to get away'.
"Ben's obsessed with the rugby, I've always wanted to visit Japan. It's my first time travelling and I've embarked on this."
Benny and Tanya's itinerary
2 July: London, UK – Paris, France (Eur
Meet this clever ingredient!

Read full article at the Original Source

Copyright for syndicated content belongs to the Linked Source