Liam Williams This is one elegant plug-in.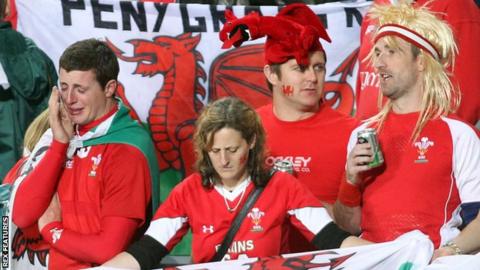 2019 Rugby World Cup
Hosts:JapanDates:20 September to 2 November
Coverage:Full commentary on every Wales game across BBC Radio Wales and Radio Cymru, BBC Radio 5 Live and Radio 5 Live Sports Extra, plus text updates on the BBC Sport website and app.
Confidence does not sit well with some in Wales, where there is an inherent pessimism, a nagging sense that something will always goes wrong.
Even in the realms of Welsh rugby, which has enjoyed periods of great success, optimism is never more than cautious, particularly when it comes to World Cups.
That is because, when it comes to Wales and World Cups, something always does go wrong.
Whether it has been a red card, a raft of injuries or an untimely thrashing, it seems Wales have never had much luck with rugby's global showpiece.
But this year, they enter a World Cup stronger than they ever have done in the competition's history: years of preparation culminating in a Six Nations Grand Slam and a record winning run which helped them top the world rankings. Even if it was only for two weeks.
Wales have come to Japan in expectation as well as hope and, if they are to win this tournament for the first time, they will need that elusive luck to bury the ghosts of their World Cup past.
Auckland, 15 October, 2011
Eden Park glistened in the dark, damp from the storms which had hit before kick-off, and France were about to take a line-out which would leave an indelible mark on Welsh rugby.
It was the 18th minute of the 2011 Rugby World Cup semi-final. Imanol Harinordoquy was calling a pre-planned move for a French side who had laboured to this stage of the competition, but had a third final in their sights.
Standing in their way was a vibrant Welsh team, the neutrals' favourites in New Zealand who had swept past Ireland in the previous round under the guidance of their impressive young captain Sam Warburton.
The open-side flanker had read France's intentions from the line-out, and he tracked the ball attentively as Julien Bonnaire tapped it down to Dmitri Yachvili, who popped a premeditated pass to Vincent Clerc, who had drifted in from his wing to look for a gap in the Welsh defence.
But Warburton saw him coming.
"I just hit him," Warburton recalls. "Back then I used to dump-tackle to be assertive.
"Because he was naturally searching to place the ball, I remember thinking 'flipping heck, this has spiralled out of control' so I just let him go."
Warburton hoisted Clerc into the air with more force than he had anticipated and, fearing he might harm his opponent, the Wales skipper dropped him.
Clerc, upside down with legs in the air, landed on his shoulders and his head thudded against the turf. As Clerc lay on the ground, his team-mates swarmed around Warburton, who was confused by this show of aggression. As far as he was concerned, that was a fine tackle – hard but fair.
"The way the game's refereed now, I wouldn't dare do that," Warburton adds.
Wales training attracts 15,000 in Japan
Gatland frets over lock problems
Pick your Wales XV to play Georgia
"If you watch the quarter-final, when we played against Ireland, I did exactly the same to Stephen Ferris and I did exactly the same to Ronan O'Gara and nothing happened. They didn't spin out of the tackle like Vincent Clerc did so his head went towards the ground."
Once Warburton had untangled himself from the melee, he looked up to see referee Alain Rolland brandishing a red card.
His immediate reaction was shock. Even when Warburton had taken his seat on the bench, Wales skills coach Neil Jenkins urged him to keep warm, thinking he had only been sent to the sin bin for 10 minutes.
The confusion extended to the television commentary gantry, where former Wales captain Michael Owen also assumed Warburton had only been shown a yellow card.
"When I sat on the bench and looked at the big screen I thought I was hard-done by," says Warburton.
"But when I watched the big screen and saw a replay I was gutted because I thought it looked so much worse than it felt."
Wales now had to play more than three quarters of their semi-final with 14 men, and they did so with great character.
Mike Phillips' try took them within a point of France and, although Stephen Jones' missed conversion meant Wales still trailed, they refused to be denied and earned one more shot at victory.
But Leigh Halfpenny's late, long-range penalty fell agonisingly short and the Welsh dream died.
The fact that France only lost by a point to a nervous and injury-ravaged New Zealand in the final made matters worse for Wales, who could only wonder if they had missed their best chance to win a World Cup.
After the semi-final defeat, the Welsh changing room was solemnly quiet. Warburton gave a team talk in which he stated how proud he was of his colleagues' brave effort and, once he was finished, he retreated to a toilet cubicle where he allowed the emotion to pour out of him as he sat alone, crying.
Wales World Cup fixtures – Pool D
Mon, 23 Sept: Wales v Georgia, City of Toyota Stadium, Toyota City (11:15 BST)
Sun, 29 Sept: Wales v Australia, Toyota Stadium, Tokyo (08:45 BST)
Wed, 9 Oct: Wales v Fiji, Oita Stadium, Oita (10:45 BST)
Sun, 13 Oct: Wales v Uruguay, Kumamoto Prefectural Athletic Stadium, Kumamoto City (09:15 BST)
Warburton feared the worst, returning home to be vilified as the man who cost Wales the World Cup.
"It was weird. If someone said to me before the World Cup you're going to be sent off as capta
I be wild about constituents, because they are the helpful.

Read full article at the Original Source

Copyright for syndicated content belongs to the Linked Source