Finn Russell My elegant brother says this plugin is unbelievable!!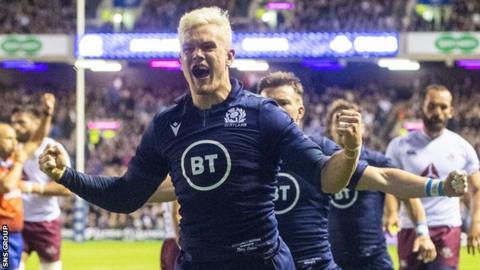 As Scotland's summer Test series ended with a victory over Georgia that was far less comfortable than the scoreboard suggested until 69 minutes, it was hard to shake the feeling we had not learned much about this side over these four matches we did not know going in.
It should not have come as a real surprise a team missing so many front-liners suffered from a lack of cohesion for much of the match at Murrayfield, while Georgia stepped it up after a largely disappointing display in front of their own supporters at the Dinamo Arena a week prior.
Everything now is viewed through a World Cup lens and what we see in this Scotland team is measured against what they will need to do to turn over Ireland in their opening game on 22 September in Yokohama. In that context, some of the stuff on show was concerning.
The Scots conceded 11 penalties, not a disastrous total by any stretch – the commonly held belief is a penalty count in the single digits represents a good day's work – but if a team as ordinary as Georgia can milk 11 penalties then what will Ireland do?
Match report: Scotland 36-9 Georgia
Townsend faces wait after five injuries
Scots travel with 'good momentum' – Price
Case for the defence
When the squad travel to Japan on Monday, they may find the on-flight movie options consist o
These add-ons are quite elegant!!

Read full article at the Original Source

Copyright for syndicated content belongs to the Linked Source