Owen Farrell These plugins are nice!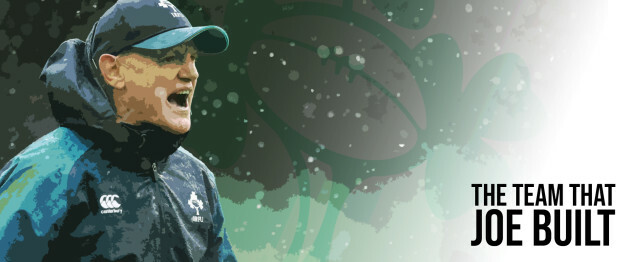 THERE ARE MANY attributes that make Joe Schmidt one of the best coaches in the world, but his trademark on the pitch has often tended to be intelligent and delightfully-detailed set-piece plays that tear opposition teams apart in the space of seconds.
The Ireland head coach is deservedly renowned as a clever analyst of the game, capable of picking out possible weaknesses in teams and ruthlessly exposing them with carefully-orchestrated moves from lineouts and scrums.
Ireland have repeatedly benefited from Schmidt's quality in this area during his tenure, with many of their key tries coming directly from the 53-year-old's playbook.
There are so many examples to choose from when examining this area – as we delve into Schmidt's make-up in our series 'The Team that Joe Built' – but we've limited ourselves to five set-piece scores in this instance.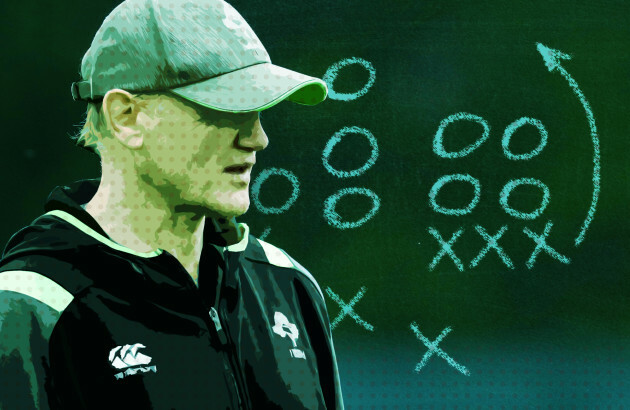 Schmidt has a well-earned reputation for being a set-piece genius.

England 2014
Rob Kearney's try away to England in the 2014 Six Nations came at the end of a three-phase power play that featured a classic Schmidt dummy loop close to a ruck.
This move dates back to 2012, when Leinster unveiled it against Cardiff – Kearney scored on that occasion too – and was used to devastating effect in the Heineken Cup semi-final against Clermont later that year, when Cian Healy was the man to finish.
Schmidt brought the play into the Test arena in his successful first Six Nations with Ireland, underlining to all that his set-piece genius applied to international rugby as much as it had with Leinster.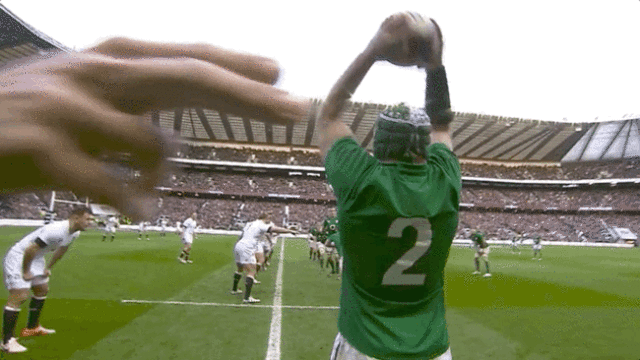 Click here if you cannot view the clip above
Ireland play off the top of a six-man lineout as Rory Best hits Devin Toner in the middle, lifted by Healy and Paul O'Connell.
With flanker Chris Henry out in midfield, Conor Murray starts at the front of lineout but drops into the receiver position [as indicated in red below] as Best throws.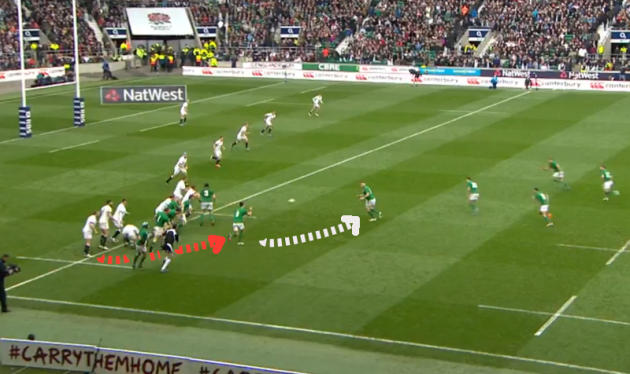 Jamie Heaslip starts as the receiver but he breaks out over the 15-metre line [white above] as Toner transfers the ball to Murray, allowing the number eight to run at England. There is dummy movement outside him from Sexton but Heaslip's job is to carry the ball.
Henry resources the breakdown, as does Mike Ross coming from the back of the lineout before left wing Dave Kearney joins too.
Ireland have clean ball and Murray moves it away for Toner to carry coming around the corner.
Click here if you cannot view the clip above
Toner makes a strong gainline carry, with O'Connell and Peter O'Mahony in close support to resource this breakdown.
England may have anticipated Ireland going around the corner again on the third phase – Ross and Healy [yellow below] attempt to sell that by working over to the right – but Ireland instead bounce back against the grain.
Sexton [white above] and Kearney [red] get in motion sweeping back across to the left, as Murray moves the ball to Heaslip [blue].
Outside Heaslip is Henry [green] and Sexton will also work to the number eight's outside shoulder, providing England with a lot to worry about if Heaslip does tip on a pass in that direction.
Instead, Heaslip straightens up and does wonderfully to fix England's pillar defender, Dylan Hartley, just before Kearney arrives at speed to accept the inside pass.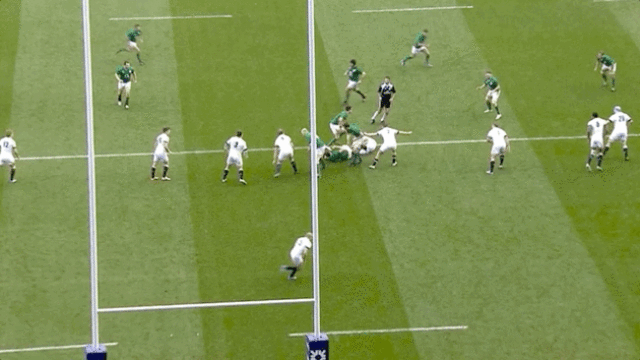 Click here if you cannot view the clip above
Heaslip's handling and Kearney's timing are obvious highlights here, but Schmidt always stresses that every player on the team has an important part to play in these moves.
Murray [yellow below] runs the dummy loop line around Heaslip to worry England about a return pass.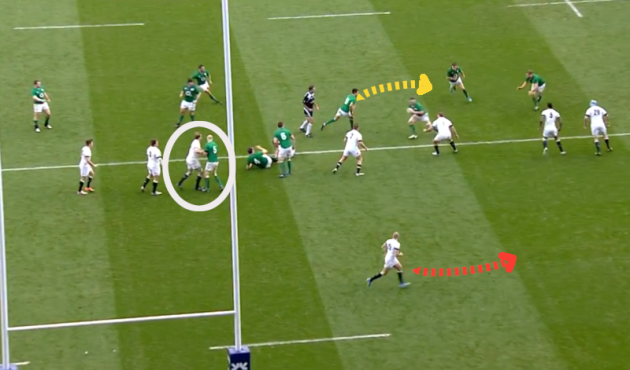 Out of shot, Gordon D'Arcy, Brian O'Driscoll and Andrew Trimble are holding width on Ireland's right, while Best is doing the same with Dave Kearney out on their left, concerning England about a possible wide attack as Ireland bounce back.
That means fullback Mike Brown is in motion [red above] towards the touchline when Heaslip instead sends Kearney through, and the Englishman cannot readjust.
O'Connell's role in impeding Joe Launchbury [white circle above] from folding back to where Kearney makes the break is also crucial, and a fine example of the little details that can often make a huge difference.
While Ireland lost this tie in Twickenham, Kearney's score was a clear indicator of Schmidt's smarts with set-piece attack.
France 2014
Despite the defeat in London, Ireland did manage to get over the line for a championship success in Schmidt's first Six Nations, beating France 22-20 in Paris in a dramatic finale.
Trimble scored two key tries and one of them came from a clever two-phase power play from a scrum in the first half.
Click here if you cannot view the clip above
The scrum itself plays a key role in this score as Ireland manipulate the angle to get loosehead Healy's side up, meaning the French pack will have even more distance to make up as they break from the scrum and attempt to work across the pitch.
Schmidt has always placed a huge focus on the quality of Ireland's set-piece and it almost goes without saying that none of these scores would be possible without a quality platform.
Murray passes to Sexton here, with the out-half hitting outside centre O'Driscoll on a direct line up the pitch.
O'Driscoll expertly feigns a return pass to Sexton as the out-half runs a dummy loop line around him [white], with D'Arcy arcing outside his centre partner too [yellow].
The 'animation' D'Arcy and Sexton are displaying here is something Schmidt has always pushed with his players – hands out, calling for the ball, looking like a genuine threat.
France centre Mathieu Bastareaud [red above] has to respect Sexton and D'Arcy's runs and he sits off O'Driscoll, leaving the Ireland centre in a one-on-one with France out-half Rémi Talès – meaning a gainl
These items are quite magnificent!!

Read full article at the Original Source

Copyright for syndicated content belongs to the Linked Source